President Biden recently signed an executive order that launched an immediate 100-day review for federal agencies to assess the full extent of vulnerabilities in America's supply chains, including our mineral supply chains that are essential to the U.S. energy, defense, healthcare and transportation sectors.
Addressing these supply chain issues is an important first step as the administration and Congress plan a second economic recovery package that could include new infrastructure investments and other measures aimed at addressing climate change and boosting U.S. manufacturing jobs. These are likely to include initiatives aimed at building advanced energy infrastructure, moving the federal vehicle fleet to all electric vehicles and installing 500,000 new EV charging stations across the U.S.
According to the 2021 USGS Mineral Commodity Summaries report, the U.S. mineral import reliance has doubled over the past two decades with the U.S. now 100 percent import-reliant for 17 key minerals and more than 50 percent import-reliant for an additional 29 key mineral commodities. This reliance exists despite the U.S. having significant mineral deposits here at home.
Our growing import reliance is especially concerning given that mineral demand from essential industries – such as energy and transportation – is expected to soar. Metals like copper, lithium, nickel, cobalt, rare-earths and titanium will be in increasing demand by the manufacturing sector.
China continues to lead in the global production for raw materials, including metals, many of which are essential to the goods and technologies that have become foundational to life in the modern world. With global demands for minerals projected to increase beyond the current capacity, policymakers have begun to recognize the need to adjust course before the markets become even more dominated by Chinese-backed operations.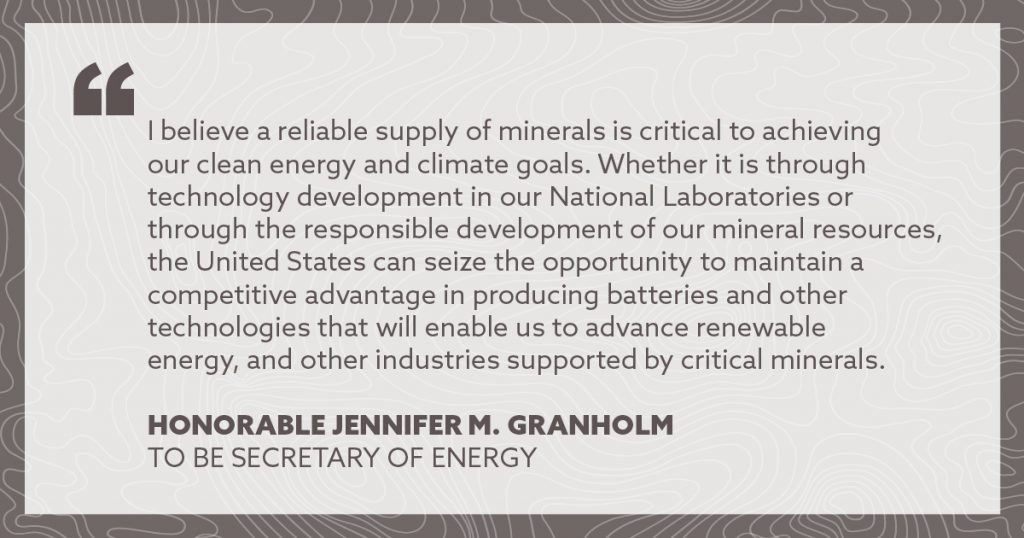 In addition to Executive Orders 13817 and 13953 under the prior administration, the latest move serves as a confirmation of the bipartisan issues related to supporting U.S. domestic mining. Given the intensive global demand for minerals, the Biden administration and Congress can help secure our mineral supply chains and reduce our reliance on foreign producers by streamlining the mine permitting process and reevaluating the financial burdens placed on mining companies. America must develop a comprehensive strategy to remove barriers to domestic mineral production to secure its critical supply chains.
To learn more about how mining can support the Biden administration and its post-COVID-19 priorities, visit our Economic Recovery page.